Remember after Jesus' birth among the gifts the magi brought was myrrh? Myrrh was used in death, to embalm and to anoint the dead. It represented mortality, suffering, and sorrow and as a gift to the Messiah, it represented Christ's human nature, the Suffering Savior, the Passion.
Myrrh is dried sap of the commiphora tree. The tree itself is known of its thorns. How significant do you think it is that this tree is full of thorns?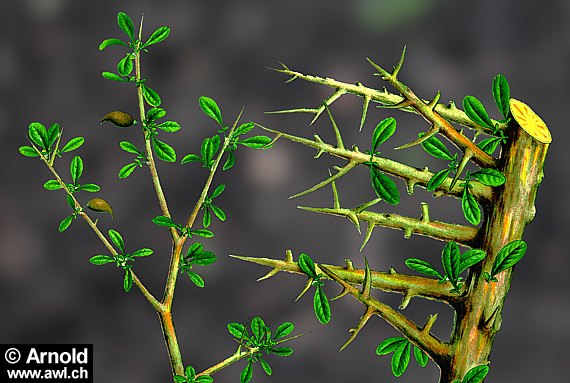 During Jesus' trial before Pilate,
"Pilate took Jesus and flogged him.

And the soldiers twisted together

a crown of thorns

and put it on his head and arrayed him in a purple robe.

They came up to him, saying, 'Hail, King of the Jews!' and struck him with their hands. Pilate went out again and said to them, 'See, I am bringing him out to you that you may know that I find no guilt in him.' So Jesus came out, wearing

the crown of thorns

and the purple robe. Pilate said to them,

Behold the man!

'"

(John 19:1-6)



Many years before, God the Father said,
"Get you up to a high mountain, O Zion, herald of good news; lift up your voice with strength, O Jerusalem, herald of good news; lift it up, fear not; say to the cities of Judah, '

Behold your God!

'"

(Isaiah 40:9)



"It was now about the sixth hour, and there was darkness over the whole land until the ninth hour, while the sun's light failed. And the curtain of the temple was torn in two. Then Jesus, calling out with a loud voice, said, 'Father, into your hands I commit my spirit!'"

(Luke 23:44-46)








"Hear the bells ringing,
they're singing that we can be born again.
Hear the bells ringing,
they're singing Christ is risen from the dead.
The angel upon the tombstone said
'He is risen just as He said.
Quickly, now, go tell His disciples
that Jesus Christ is no longer dead!'
Joy to the World,
He's risen! Alleluia!
He's risen! Alleluia!"
("Easter Song by 2nd Chapter of Acts)
[Listen to this 70's song here, Disc 1, fifth selection down]