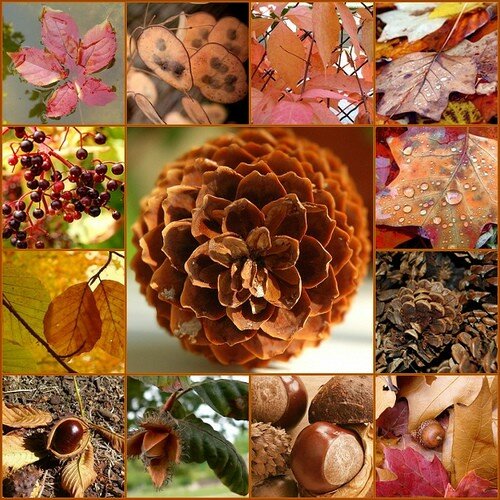 (collage by Vero)
Our Thanksgiving Menu



Turkey breast with turkey gravy




Brown sugar cured ham




Sweet potato casserole




Corn pudding




Twice baked potatoes




Green beans




Asian noodle salad




Cranberry salad




Pumpkin knot rolls




Pecan pie




Apple pie




Apple pie ice cream




Iced tea




Coffee



My mom is bringing the corn pudding, twice baked potatoes, Asian noodle salad, and two pecan pies; my sister is bringing the apple pie and my mom; and I'm in charge of the rest.
Over the years, I've learned to try to do most everything the day or two before. So, today I've cooked the turkey and ham, sliced them and arranged in baking dishes to warm tomorrow. I cooked the green beans, made the cranberry salad, and assembled the sweet potato casserole minus the topping. Tomorrow I'll make the rolls hopefully to come out of the oven just in time to set on the table.
Feast time begins at 1 pm.

For all Seasonal Sounding readers, endeavor to have a thankful heart and spirit.
Enjoy the company and the food!

Cranberry Salad
1 package cranberries, chopped (I freeze these and put them into my food processor to chop while frozen. The noise will wake the dead.)
2 medium navel oranges coarsely ground with skin
1 16oz can crushed pineapple, drained very well (I squeeze the residual juice; too much juice causes the salad to not congeal well.)
1 cup sugar
1 6 oz package jello (cranberry, strawberry, or raspberry)
1 cup water
½ cup finely chopped pecans (optional)
½ cup finely chopped celery (optional)
Mix cranberries, oranges, pineapple and sugar together. (Add pecans and celery here, if you use them.)
Heat water to boiling, remove, and add jello. Stir to dissolve.
Add jello and water to fruit and mix.
Pour into dish or mold to congeal.
Sweet potato casserole
2 tall cans yams, drained
1 cup sugar
½ cup butter, melted
4 eggs, beaten
1/3 cup milk or cream
1 tsp vanilla
Topping
2 cups brown sugar
1 cup flour
2 cups finely chopped pecans
Mix together until evenly distributed.
Melt ½ stick butter and pour into sugar/flour mixture.
Stir until all is moist.
Sprinkle onto casserole and bake.
With mixer, combine all and mix till smooth.
Pour into buttered casserole dish.
When ready to bake, sprinkle on topping.
Bake at 350 for 45 minutes.