Addedend:
After the post below, I searched again on Netflix to see if, by some remote chance, it might be available, just not in my queue. Weird wiring, I guess. 24: Redemption was still in Netflix's available listings. So, I put it back in my queue in the number one spot with a "very long wait" listed beside it.

Lo, and behold! I checked my queue just now, and it is in the mail. YooHoo! I need to get my work done so I can hunker down tomorrow night with the adventures of Jack.
After today, I need some distractions of this sort.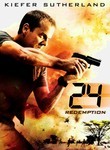 I'm so disappointed. And over such a trivial matter.
As a huge 24 fan, I so looked forward to 24: Redemption becoming available through Netflix. (I could not watch it when it came on TV a few weeks ago.)

24: Redemption has been in my Netflix queue in the #1 place since before the TV debut. After availability and until today, it has been listed as "a very long wait."

Today, it is listed as "24: Redemption has been removed from your Queue. We no longer offer this movie for rental."

Disappointed. I was so looking forward to enjoying this during my Christmas break.