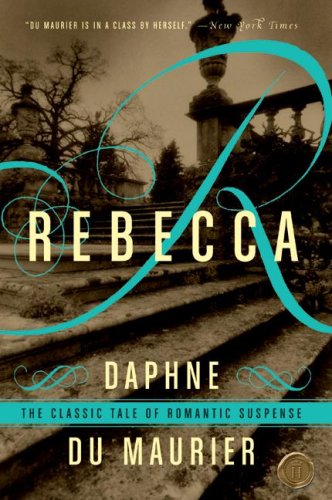 Oh, WOW! What a tremendous story! It is no wonder that so many told me this was one of their favorite books. Yes, this is one of those stories that will follow me like a shadow for days after the last line.
Not only is the story full of suspense and those "I didn't see that coming" twists, the writing is superb. If you come to this book after recently reading fast-food fiction, you will need to press through for a bit to get used to a higher level of writing. But it is worth it. It is
so
worth it. I'm not a fast reader (as I've said many times before), and for me to finish this 400 page book (that doesn't lend itself to a lot of white space on the pages) in ten days, reading mainly at bedtime, says something for me.
If you've not read
Rebecca
, make plans to do so. You should not be disappointed.
Three quotes I marked worth remembering for both descriptive metaphor and truth :
" . . . the intolerable discomfort that floods one after lack of tact."
" . . . lost in the labyrinth of his own unquiet thoughts . . . "
"If only there could be an invention . . . that bottled up a memory, like scent.
And it never faded, and it never got stale.
And then, when one wanted it, the bottle could be uncorked,
and it would be like living the moment all over again."
Prior to reading this book, author Daphne du Maurier's name crossed my path (how
often
stuff like this happens!). I was browsing my library's Overdrive audiobook offerings and found
My Cousin, Rachel
which is now in my listening queue. In addition, while reading a (very little) bit about du Maurier, I saw that Alfred Hitchcock had made a couple of movies loosely based on some of her short stories. One that dropped my mouth open was "The Birds." I remember watching that when I was in 6th or 7th grade and being scared out of my wits! (This rabbit trail led me to add
The Dark Side of Genius
(Spoto) to my audio list.)
After reading du Maurier's "Author's Note" at the end of the book, I uttered aloud another "Wow, I didn't see that coming." This time, though, the
wow
was not about the turn of the story, but about the revelation of connections between authors in another one of those delightful synchronistic moments: " . . . my friend Foy Quiller-Couch, daughter of the famous 'Q' . . . ." "Q" refers to Arthur Quiller-Couch, a Cornish author who turned some of his Cambridge lectures into
On the Art of Writing
which is sitting on my must-read-someday shelf. I get so absolutely excited when rabbit trails trek into my own bookshelves and become such serendipitous moments.
(Advice attributed to Quiller-Couch that I picked up somewhere but cannot find reliable attribution: "
Read incessantly, keep a daily journal, collect maxims, quips, and anecdotes, write a little bit each day, walk every afternoon, eat well, pursue beauty, and take delight in the process.
")